Platinum is the newest of the noble metals. It was not until 1557, following the Spanish conquest of South America, that the first published references to a hard-to-melt metal, platinum were noted by Julius Caesar Scaliger, the Italian scholar and poet. Specimens of the metal were not received in Europe until the mid-eighteenth century.
Since then, the other five metals of the Platinum Group have been identified.
These are Rhodium, Ruthenium, Palladium, Iridium and Osmium.

Each one is used in some form of the jewellery industry, notably Rhodium as a bright, hard, tarnish-free electroplate; Ruthenium, Iridium and Palladium, as alloying elements with one another and Osmium, the least abundant, in some pen-nibs.

Perhaps the first conscious use of platinum as a decorative material stemmed from the work of a Parisian artist/metalworker, Marc Etienne Janety. Today, the only known work of Janety in platinum can be seen in the Metropolitan Museum of Art in New York City.
The glass-lined platinum sugar bowl is dated 1786 and is an extraordinary example of the quality of design that can be executed in platinum and its still fine detail is testimony to the durability of the metal.

During the first 40 years of this century, platinum was the preferred metal for wedding and engagement rings and was almost always used to enhance the beauty of diamonds and other gemstones.

The neutral colour enhances the natural clarity and sparkle of gemstones, where other metals can detract from the stones' beauty.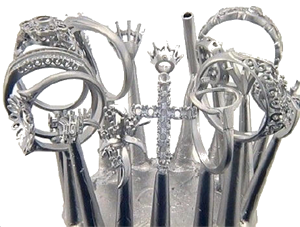 Then just prior to World War II, platinum was declared a strategic material and its use in most non-military applications, including jewellery, was prohibited. During this time, white gold was developed as a replacement. Once embargoed, Platinum is now regaining its old popularity.

Platinum is the elegant metal for the new millennium. Apecs leads the technology in Australia in casting your designs in platinum, with the added service of high quality finishing available. Please phone for details – 03 9808 2968

While the world's jewellers increasingly use the beauty of platinum, we at Apecs are casting more and more in this superb metal. For those of you unsure of the finishing process required, our skilled staff are happy to assist and provide fully finished ready to set platinum castings. Ask us for more information and pricing.