Honours and Awards by Her Majesty The Queen of Australia
Appointed Officers in the General Division of the Order of Australia
Mr. Anthony Philip Eccles

For service to the jewellery craft, particularly through the development of innovating and ground-breaking techniques, to technical education through the promotion of traineeship programmes in Australia and overseas, and to the community as a supporter of "at risk" youth by encouraging participation in programmes.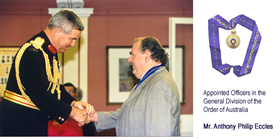 Industry Awards
Apecs Investment Castings was honoured to receive an Industry Leadership Award at the 11th Santa Fe Symposium on jewellery manufacturing technology in recognition of its work in improving precious metal alloys.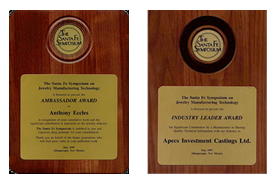 The Symposium was attended by 180 people, representing the UK, Peru, Italy, South Africa, Canada, Italy and more.

Australia was represented by Wyn Sher, John and Alex Cooke and Tony Eccles.